Fashion
Amazing footwear for the perfect walk of life
Every outfit is incomplete with that perfect pair of ladies walking shoes. The shoes you choose to wear can vary according to your style, occasion, and weather. All of them are the factors that are important while choosing footwear. Thankfully, we women have even greater selections to choose from. Every season brings in a new collection of footwear. All the big and small brands contribute to providing an amazing shoe collection. Today, we will talk about the best brands in Pakistan to buy shoes for women from. We will include a number of shoes in different categories. So, keep on reading to explore new ways to walk in utter perfection. Let's step into it.
Limelight's Women Flats for Elegance
Being elegant when styling yourself is crucial. The best and most comfortable way to look elegant is by wearing flats. To be specific, our top pick to buy flats is Limelight and with good reason. This brand is an amazing all-rounder but when it comes to flats, their collection is endless. In addition, the quality and style make them the best pick to buy best walking shoes for women. As you can see from these Rhinestone Strap Slides, elegance is the key theme in these flats. The beige color in combination with the sparkly rhinestones makes these flats the best footwear that you can stun with almost every outfit. A round open toe-box of flats without the hindrance of heels makes them comfortable. This means you can wear them for hours and hours. Add these lovely flats into your daily outfits and look your best while staying comfortable.
Be tall and proud with Sapphire's Heels
Heels are a woman's best friend. No matter how tall or short you are, you probably own a pair of women heels. That's because wearing heels is not about looking tall, it's about looking immaculate. Sapphire brings you an extensive range of heels that leave you in awe. These heels make you look stunning regardless of where you are. Sapphire's Heel Collection consists of many flawless pairs. These blue heels in particular stand out for us. These strappy light blue embossed heels with a cut-out feature make it a must-have in your shoe collection. They are made with a long-lasting PU material. These heels will look amazing with any outfit you just have to be creative about styling it. Add these to your footwear collection today!
Fancy Mules by Khaadi
Khaadi is no stranger to footwear. Just like their clothes, their shoes are top-of-the-line. When talking about mules, Khaadi shows some amazing articles. Anyone can see the high-quality and elegant style oozing from their formal shoes for women. These mules are a great way of leveling up your formal fashion. Got a wedding coming up? Don't worry and grab a pair and make life easier for yourself. This black polyester sued mule is embellished with pearls. Their contemporary take on traditional style has been a game-changer in mule fashion. Pairing this shoe with your black formal outfit can serve as the finishing touch you need. So, grab a pair and start dressing up today with Khaadi.
Slippers for Women by Orient
Slippers are the best way to show off your feet in summers. The open nature of a slipper keeps you cool and the style makes you look sophisticated. Orient's slipper collection is astonishing. They make simple footwear into something special. You can see their dedication toward their products through these slippers. Take these beige slippers as an example. The flat style of the slipper makes it comfortable to wear. Whereas, the golden pyramid embellishments on the strap add grace to the slippers. All in all, these slippers are amazing. Their simple yet intriguing style makes them jaw-droppers. You can wear them as your everyday sandals or on a special occasion as well. That's all up to you!
Sana Safinaz's Summer Sandals that Turn Heads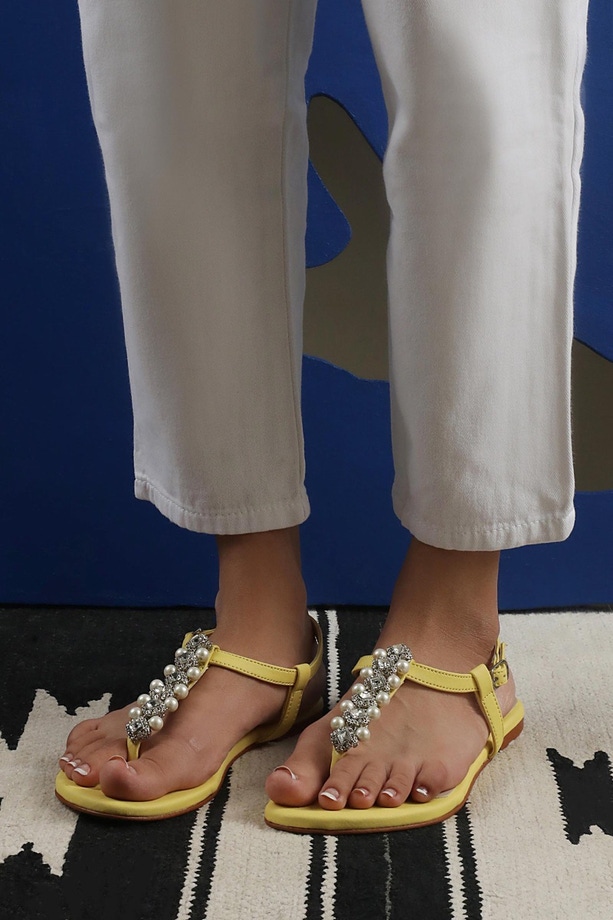 Walking sandals for women are the most appropriate flats since they have a strap and a cushion. The sandals are available in both summer and winter styles. Summer sandals are open with straps or flip flops for women, but winter sandals are closed. Sana Safinaz's footwear contains many lovely slippers and flat sandals for women. However, these seem perfect for us. They bring the best and on-trend vibes for your summer outfits. This yellow sandal is embellished with pearls and other ornaments. The casual and semi-formal look is best for summers because it's versatile. Try these on today at Sana Safinaz.
Time to Shop for Pretty Women Shoes
Here you girls! An intensive blog on the best brands in Pakistan to pick your summer footwear. The comfort women sandals and shoes shown above are just scratching over the surfaces. Visit Limelight, Sapphire, Khaadi, Orient and Sana Safinaz today to buy your favorite summer footwear. Every brand in this list is up to the mark as they will make your walk of life perfect. So, what are you waiting for? Go on and have the best footwear of your life!